Automatic Lathe Processing 6063, 7075 Aluminum Alloy Shell
Material: 7075 Aluminum Alloy
Service:

Automatic Lathe Processing
, Drills, reamers, taps, screw die and knurlers
Customer:

ZTE
Lead Time: 12 days
Product parts following figure: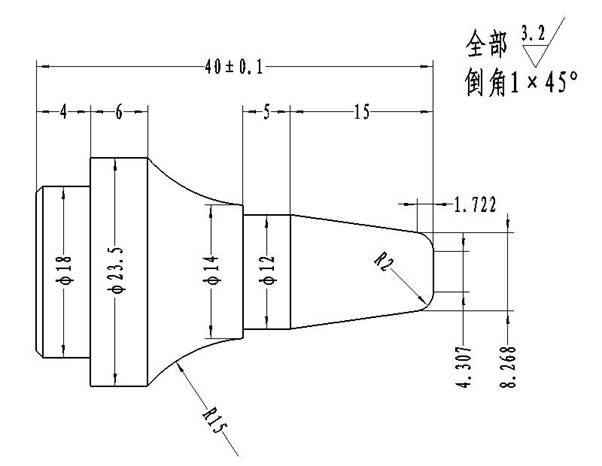 Turning control:
Coarse and fine cars use No. 1 external turning tool, The 60° thread knife is mounted on the No. 3 knife position. Cut off the use of No. 4 cutting knife; The tool change point is set at X50, Z100. Please prepare the machining program according to the GSK-980T system requirements.
Programming control

O 1003 ;

Description:

N10
G50 X50 Z100 ;

Positioning the workpiece coordinate system with tool change points

N20
M3 S560 ;

Spindle start

N30
T0101 ;

Change No. 1 knife

N40
G0 X25 Z1 ;

Rapidly move to the starting point of processing

N50
G71 U0.8 R0.5 ;

Perform a cylindrical roughing cycle

N60
G71 P70 Q150 U0.5 W0.2 F100 ;
Residual capacity X0.5 Z0.2,

feed rate

100 mm/min
N70
G0 X7.8 ;

Contouring start line

N80
G1 X11.8 Z-1 F30 ;

Turning front 1×45° chamfer

N90
Z-15 ;


N100
X12 ;


N110
X16 Z-27 ;

Turning the conical surface

N120
W-8 ;


N130
X18 ;


N140
G2 X24 Z-40 R5.6 ;



Turning concave arc

N150
Z-55 ;

Contouring the end of the line

N160
G70 P70 Q140 ;

Perform a finishing cycle

N170
G0 X50 Z100 ;

Back to the tool change point

N180
T0303 ;

Change 3 thread knife

N190
G0 X16 Z3 ;

Positioning thread starting point

N200
G92 X11.1 Z-13.5 F1 ;

Three knife F1 thread, the first knife 0.7mm

N210
X10.7 ;

The second knife 0.4mm

N220
X10.5 ;

The third knife 0.2mm

N230
G0 X50 Z100 ;


N240
T0404 ;

Change No. 4 cutting knife

N250
G0 X27 Z-40.1 ;

Positioning cutting start point, leaving 0.1mm margin

N260
G98 G1 X16 F15 ;

Precut a slot

N270
G0 X26 ;

Retract

N280
Z-48 ;


N290
G1 X22 Z-50 F10 ;
Turning end chamfer,

feed rate

10mm/min
N300
X0 ;

Cut off

N310
G0 X50 ;


N320
Z100 M5 ;

Replace tool point, stop spindle

N330
T0100 ;

Change back to the benchmark knife

N340
M30 ;

End procedure
Aluminum alloy conventional

surface processing treatment

: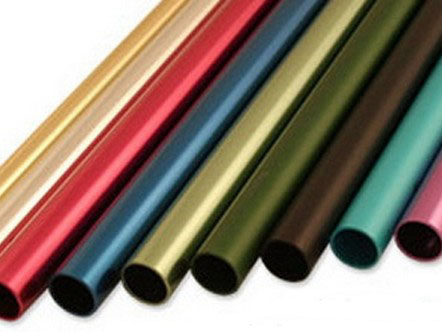 Matte fabric aluminum profiles
:
The matte surface aluminum profile avoids the disadvantage that the bright aluminum alloy profile will form light interference under certain conditions in the building decoration. Its surface is as delicate and soft as brocade and is very popular with the market. However, the existing matte material must overcome the non-uniformity of the surface sand grains, and can see the lack of mold pattern.
Multi tone surface treatment aluminum profiles:
At present, the monotonous silver-white and tan color can no longer satisfy the architects' good cooperation with exterior wall decorative tiles and outer wall latex. New stainless steel color, champagne, golden yellow, titanium gold, red series (wine red, maroon, black, purple) plus stained glass can make the decorative effect icing on the cake. These profiles must be chemically or mechanically polished and then re-oxidized for good results.

Electrophoretically painted aluminum profiles:
Electrophoretic paint profiles have a soft, lubricious surface that resists the erosion of cement and mortar acid rain. 90% of aluminum profiles in Japan are electrophoretically painted.

Powder electrostatic spraying aluminum profiles:
Powder electrostatic spray profiles are characterized by excellent corrosion resistance. Resistant acid-base salt mist is much better than oxidation-colored profiles.

Plasma Enhanced Electrochemical Surface Ceramicized Aluminum Profiles:
This type of aluminum profile is the most advanced processing technology in the world today. This aluminum product is of good quality but at a high cost. It has more than 20 shades, Its greatest feature is that it can be coloured like a calico, as required. the aluminum surface is colourful and has excellent decorative effect.