Pressure rivet nut, also known as flower shank nut, is fixed to the thin plate by means of riveting, and the pre-opening hole of the thin plate is placed above the nut and pressed directly into the thin plate through the press, thereby forming a firm internal thread on the thin plate.
By riveting nuts and thin plates, this method is widely used in chassis cabinets, sheet metal, and other stamping parts. Its industry covers communications, automobiles, and network equipment.
As a full range of pressure riveting component manufacturers, we have many years of experience in the production and service of pressure rivet nuts, from the early turning process upgrade to a full range of cold piers, the machine platform long-term fixed production of a single specification, and strive to minimize the marginal cost and quality Stability, so as to bring customers greater competitive advantage.
Has been for a number of domestic and foreign stamping, automotive parts, cabinets and other manufacturers to provide product and technical support.
Pressure Riveting Nuts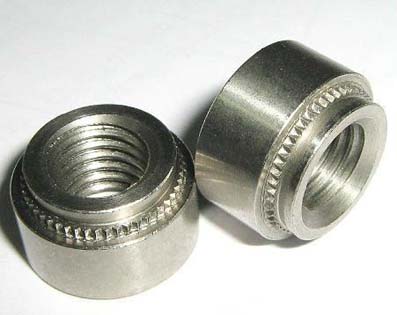 The classification of pressure rivet nuts: pressure rivet nuts are divided into three types: S, CLS, and SP.
S: carbon steel rivet nut
CLS: Stainless Steel Rivet Nut
SP: stainless steel rivet nuts
Example of the representation and annotation of the rivet nut:
S-M6-2 ZU
S: The representative material is carbon steel (other models corresponding to it are CLS, SP, etc.)
M6: thread is M6*1
2: The corresponding thin and thick code, that is, the minimum plate thickness 2.3 (other code numbers are 0, 1, and 3, see the following table)
ZU: Electroplating code, representing blue zinc
Pressure rivet nut specification range:
From the specification is divided into metric and American:
1, metric specifications production range: M2 ~ M12,
2, the United States system production range: 4 # ~ 1/2
Stainless steel rivet nut CLS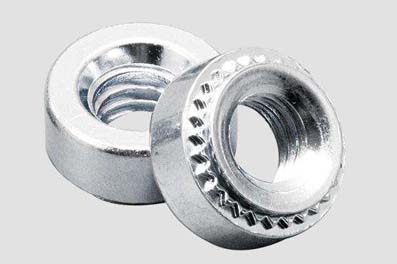 Stainless steel riveting nut CLS, using SUS304 cold pier stainless steel processing, our company fixed machine production stainless steel series riveting nut, M3-M10 spot in the library, ready delivery. M10 (including) the following specifications one-time molding, M12 and The above automatic lathe finished rough + tapping machine tapping completed.
All use OSG and YAMAWA titanium-coated dental wire tapping, the pass rate of thread pass is 99.5%. The product pass rate is 100%.
We have a wealth of experience in stainless steel cold piers and turning, and we have a higher production efficiency and can provide customers with more market-competitive products.
Our company also provides two kinds of stainless steel stainless steel rivet nuts. SUS304 stainless steel and SUS303 stainless steel.
CLS stainless steel pressure rivet nuts are widely used in aluminum, copper, PCB; SP stainless steel rivet nuts are installed in all kinds of stainless steel
(For details, see: SP Hardened Stainless Steel Rivet Nuts, which are made of SUS410 martensitic stainless steel vacuum hardened nuts.)

The left picture shows stainless steel rivet nuts, material: SUS304 and SUS303
Surface hardness: no heat treatment Material itself is HRC15-22
Surface treatment: Purified stainless steel
Production and Availability: M3-M12 (Metric) 2#-1/2 (U.S.)
The specifications of the stainless steel rivet nuts from top to bottom in the figure are M8-2, M6-2, M5-2, M4-2 and M3-2 respectively.
Stainless steel rivet nut installation:
For the same installation method as the S-type rivet nut, please refer to the carbon steel rivet nut for details and precautions. Refer to the torque standard and installation force of the rivet nut and push the force.

Stainless steel riveting nut (cold pier process)
Material: SUS304
Left specifications: CLS-M4-2 and CLS-M5-1
Our company produces a full range of stainless steel rivet nuts

The description of the stainless steel pressure rivet nut is shown in the figure on the left:
CLS-M4-2
CLS: stands for stainless steel
M4: stands for thread, M4*0.75
2: Board thickness code, minimum board thickness 1.4
SP-type stainless iron clinching nuts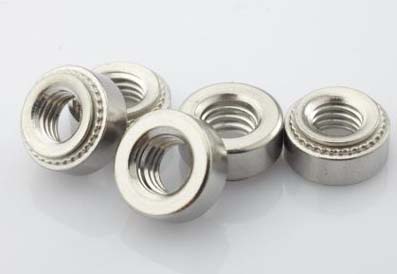 SP rivet nuts, manufactured using SUS400 series stainless steel (SUS416), can be applied to stainless steel 304 and 316 sheets.
SUS400 series martensitic stainless steel (commonly known as stainless steel) has a certain degree of corrosion resistance, hardness after vacuum quenching up to HRC42 ~ 55, used in stainless steel plate and harder thin plate or work environment requiring higher torque resistance.
At present, our company's SP type stainless steel pressure rivet nut common specifications inventory has been fully prepared.

SP stainless steel rivet nut
Material: SUS416 SUS410 martensitic stainless steel (ie stainless iron)
Surface hardness: vacuum heat treatment to HRC40~50
Surface treatment: pickling after passivation to increase its corrosion resistance
Production Range: M3-M10 (Metric) 2#-3/8 (U.S.)
FLARE-IN NUTS; Z ZS NZ NZS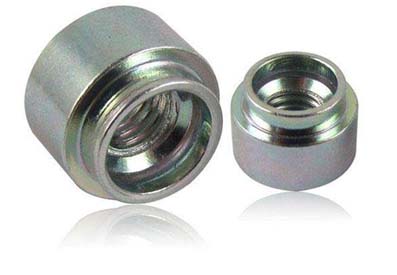 FLARE-IN NUTS, ZS stainless steel rivet nut, NZ hexagonal rivet nut and NZS stainless steel hexagonal rivet nut. Riveting nut is a fastener product used on sheet metal. After being mounted on the metal plate, the rivet interface is expanded so as to be fixed on the plate. There are several kinds of threads for rising rivet nuts, including metric thread, inch thread and American thread.
Riveting nuts are widely used and can be used in automobiles, electronic appliances, machinery and equipment.
The precision of the rivet nut's thread is 6G. The materials used to produce the rivet nut are quick-cut steel 1214, 1215, stainless steel SUS303, etc. It can also be made according to user's requirements.
Surface treatment: electroplating or natural
Hexagonal rivet nut Z ZS
The standard 2.5-meter long hexagonal bar is used in the automatic lathe plus one-time turning.
In addition to processing according to the standard dimensions in the reference table of the above specifications, it can be changed or formulated according to the customer's specific board thickness.
If the user is not satisfied with the standard riveting thickness, he only needs to report the applied plate thickness.
Blue-white zinc plated rivet nut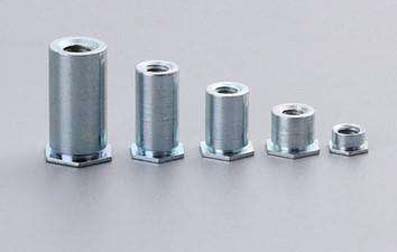 Generally, the plate hole is pre-opened on the sheet, and the rivet nut is placed in the hole of the plate. The jigless part is used to rise from the inside to the outside, so that the rivet nut and the sheet are tightly riveted. Rising rivet nut is generally not hardened, so as to ensure its toughness, when the rule rises, it can not only make the component up and riveted, but also does not increase the component crack. Therefore, it is important to choose a good material for production. The rivet nut is riveted to the thin plate so as to form an effectively fixed internal thread on the thin plate.



Stainless steel rivet nut ZS, round stainless steel rivet nut ZS, material SUS303




The use of a standard 2.5-meter-long polished round bar for cutting and tapping holes is completed once on an automatic lathe.

Can also be made in special sizes




Riveting nut code description method example:




Z-M3–1.2: round iron material FLARE-IN NUTS for plate thickness 1.2




ZS–M4–2: round stainless steel FLARE-IN NUTS, for plate thickness 2




NZ-M3–1.5: Hexagonal iron FLARE-IN NUTS, suitable for plate thickness 1.5




NZS–M8–5: Hexagonal stainless steel FLARE-IN NUTS for plate thickness 5MM