Battery collecting mesh hole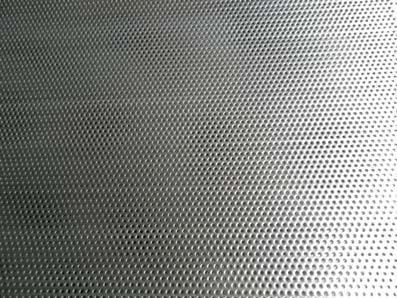 Material: kinds of special silver alloy, generally designated customers.
Precision punching diameter: The company broke through the industrial difficulties in late 2017.
The limit reaches 0.27MM.
And can stabilize the quality and quantity batch production.
Precision hole spacing: 0.3MM (that is, 17,000 uniform fine holes in an area of 50*80mm)
The above description for this product.
More is to let you understand Kangding's manufacturing process.
Because we are a professional non-standard custom stamping factory
Constantly breaking the industry's limits, specializing in high-precision, difficult-to-precise punching and stable mass production,

The electrode collecting network is an important part of the electrode and it has a very important influence on the battery performance.
Lattice is often used as a lightweight skeleton for high-power zinc-silver powered batteries. Test and comparison of collector networks of different quality and structure. The larger the drift current flow cross-sectional area, the finer the mesh, the better the effect of discharge
About the material: Since silver has a positive oxygen evolution potential and a more negative hydrogen evolution, it has good conductivity and stability. Moreover, no harmful impurities are introduced. Therefore, alloy punching nets with a high silver content are generally used in the industry as a current collector network.
It also has sterling silver, but the cost is higher.
About use: It is mainly used for high-current storage batteries. Currently, it is a battery module that is used more often. For example, new energy vehicles are most used. And other devices that require a large number of battery modules.
Cell phone speaker mesh processing
| | | | | | | | |
| --- | --- | --- | --- | --- | --- | --- | --- |
| No. | Name of product | Category (male/female) | Materials | Plating specifications | Plating thickness | Plating whether SGS | Product specification |
| | Phone speaker network | | C5210 T=0.2 | No plating, cleaning oil | | | |
| | | | | | | | |
| --- | --- | --- | --- | --- | --- | --- | --- |
| picth | Speed | Dimensional tolerance | Flatness | true position | Verticality | Straightness | weight |
| 5.0 | 400 | +/-0.02 | +/-0.02 | +/-0.02 | +/-0.02 | +/-0.02 | About 0.05 g |
| | |
| --- | --- |
| Features | Material fatigue resistance is very good, need anti-fatigue experiment more than 10,000 times |
| use | Mobile speaker network, high precision, up to +/- 0.01mm accuracy, to meet the assembly requirements of different products |